Celebrating Our 3 Year Anniversary of #FoodTravelChat
This is an update to our previous post. We're now celebrating 3 years of glorious food and travel on #FoodTravelchat! Join us every Wednesday at 8pm ET when we spend an hour exploring a fun food & travel topic. 
We're so happy to announce that we will be celebrating our 3 year anniversary of #FoodTravelChat. Three years!  Wow, that flew by. We started #FoodTravelChat in hopes of bringing people around the world together for one hour to chat about their favorite experiences around food + travel.
Over the last two years of #FoodTravelChat we've seen over 200,000 tweets, had more than 12,000 chatters and reached more than 42 million people.
The chats have included chatters from South Africa, Netherlands, Mexico, Croatia, Belgium, India, Japan, Guam, Australia, South Korea, Morocco, China, Taiwan, Portugal, Austria, Costa Rica, Nepal, Finland, Nigeria, Malaysia, Turkey, Chile, Kenya, Cyprus, Denmark, Hong Kong, Mongolia, France, Singapore, New Zealand, Germany, Indonesia, Vietnam, England, Greece, Switzerland, Saudi Arabia, Cambodia, Sweden, Sri Lanka, Peru, Poland, Iceland, Tanzania, Jamaica, Philippines, Bulgaria, Ecuador, Georgia, Columbia, Belize, Czech Republic, UAE, Ireland, Barbados, Granada, Estonia, Fiji, Ukraine, Argentina, Kuwait, Canada, Malta, Nicaragua, Guatemala, Slovakia, Thailand, Russia, Egypt, Bahamas, Romania, Honduras, Norway, Brazil, Laos, Montenegro, Brunei, Italy, Belarus, El Salvador, Saint Lucia, Haiti, Puerto Rico, Rwanda, Aruba, French Polynesia, Luxembourg, Saint Kitts and Nevis, Hungary, Seychelles, Uganda, Jordan, Bhutan, Maldives, Ethiopia, Serbia, Turks and Caicos Islands, Swaziland, Angola, Bermuda, Antigua, Kyrgyzstan, Uruguay, Latvia, Dominican Republic, Antigua and Barbuda, USA, Cuba, Israel and many other countries – all four corners of the globe.
We absolutely could not have kept it up without the help of our always charming and witty #FoodTravelChat moderators. Some have been with us since day one,  some have more recently joined the team and some have been with us for a while. We love each and every one of them and thank them deeply for their help and support.
Our #FoodTravelChat Moderators:
Our #foodtravelchat Sponsors
We've also had some terrific sponsors who have provided great fun, prizes and insights.
AARP
Hamilton Beach
Hong Kong Tourism
Viking River Cruises
Turkish Air
Brownie Brittle
Visit Britain
Moomer's Ice Cream
Visit Wales
SmugMug
Allianz USA
TownePlace Suites
And many more!
We've had co-hosts share their knowledge with our chatters.
We've had some terrific weeks talking about everything from Scary Foods Around the World, which sure had some interesting photos shared – anyone remember the fruit bat soup? – to fan favorites like Asian Feasts & Finds, Best Kept Dining Secrets, Oodles of Noodles, Food Travel Planning, Delicious Paris, Happy Hours Around The World and Cheese Around the World.
We Couldn't Do It Without You!
We've had plenty of wonderfully fun feedback.







Fun Photos, GIFS and Videos!
And what photos and videos you've all shared!
@FoodTravelist friends, 👋🏼 hello by way of CT & the best fried whole belly clams on the planet @LJFishTale! 🐟 #foodtravelchat pic.twitter.com/HchDNVfYnj

— Dion Lim (@DionLimTV) May 25, 2017
@FoodTravelist A4 Kanafeh, Levantine cheese dredged in crunchy shredded phyllo, in Jerusalem. 😋#FoodTravelChat pic.twitter.com/P29oXRaQC2

— sazyrock (@sazyrock) April 14, 2016
A1: Santorini! Last week. No good pictures of it but here are some octopus hanging out near us! #FoodTravelChat pic.twitter.com/cTQK4paHnv

— Backpacking Britts (@BackpackBritts) April 28, 2016
We've made friends with people around the world and even met up with some of them during our travels or their trips to Chicago.
In the end we hope that our #FoodTravelChat brings smiles and ideas to everyone who participates or just reads along. We truly think that sharing food and time together no matter where you are or where you go brings us all a little bit closer together and brings a little more peace to the world.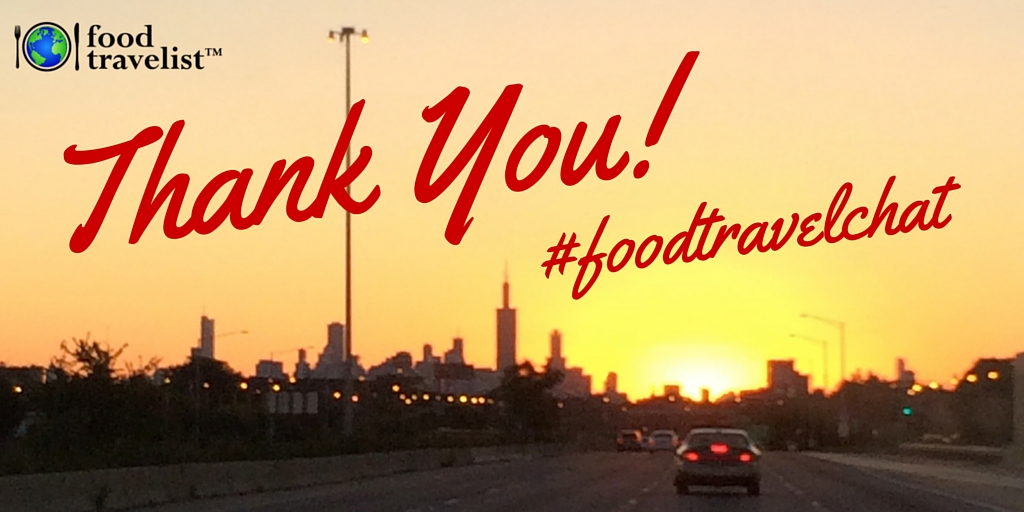 So here's to another three years and more with our #foodtravelchat moderators, friends, sponsors and supporters. Keep traveling the world and keep sharing all the wonderful tastes that you discover. If you want to learn more about #foodtravelchat and how you can participate, become a sponsor or moderator check out it out on this link.
Join The #FoodTravelChat Party!
Join us this Wednesday at 8pm pm ET for #FoodTravelChat we'll be revisiting our favorite topics and questions from the last three years. We look forward to chatting with you!
THE QUICK BITE: We're celebrating the 3 Year Anniversary of #FoodTravelChat. We're so proud to bring people around the world closer together, getting to know one another and sharing ideas for food + travel.