Surprisingly Sweet Indulgences for Valentines Day
In order for us to fully appreciate and provide in-depth coverage of 1-800-Flowers Valentine's Day offerings, they sent us complimentary samples. As always we are sharing our own independent thoughts and experiences about the products we cover with you. Some of the links below are affiliate links. This means we will earn a commission if you click through and make a purchase. There is no additional cost to you but this helps us keep Food Travelist going. 
Valentine's Day. Time for us to think of our loved ones and send along a card, candy or flowers to say "I love you." Some people say it's just a day drummed up by marketing executives as a way to sell candy and flowers. And frankly, that may be. But taking the time from our busy work-a-day lives to stop and appreciate those we love is something we can get behind.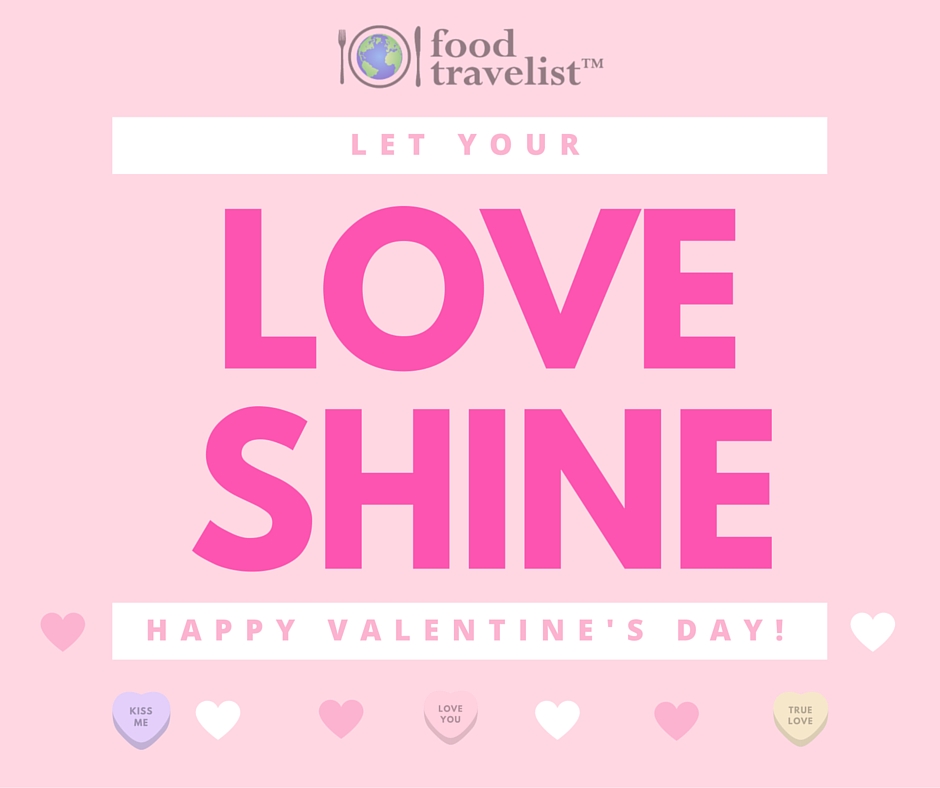 The fact is that you don't even need to have a significant other to enjoy this holiday. Why not take the day to love yourself? We all could use a little more happiness and joy in our lives so why not do it on Valentine's Day?
Let us make a few suggestions on how to celebrate love on Valentine's Day.
Take the day off, it's on a Wednesday this year, so having a day to relax mid-week sounds fun to me. Just make sure you don't spend the day on social media or doing chores. Plan a spa day, a hike in a park, a lovely lunch with a friend, family member or partner. Go to the movies. You get the idea.
Call someone you haven't talked to in a while and wish them a happy Valentine's Day. In this age of always-on, actually talking to someone on the phone or via Skype can really make someone's day.
Send someone you know is a little blue a little Valentine's gift. The unexpected tribute is guaranteed to make them smile.
Order yourself something indulgent and delicious that you can enjoy in a quiet moment. I love to buy a box of candy and eat it one piece at a time. I put the box in the freezer and take one out when I want a special treat or reward.
Some Sweet Suggestions
Our friends from 1-800 Flowers have added some new products that you might want to consider.
Chocolate Rose Heart Cakes from Harry & David $54.99
Who doesn't like chocolate cake? This new item sends along two, yes two, delicious chocolate rose heart cakes topped with premium butter buttercream frosting. I'm drooling just looking at it.
Valentine's Day Gift Tour from Cheryl's Cookies $39.99
Delivered in beautifully decorated boxes you'll get the two new flavors chocolate decadence and strawberry chocolate chunk, as well as their famous buttercream frosted heart-shaped cookies. The gift tower also includes pretzel clusters and gourmet drizzled pretzels. A perfect way to show someone you care.
Simply Chocolate Valentine's Bar and Truffles $32.99
This extra special gift includes a chocolate card that is surrounded by Artisan Truffles. The hardest part will be deciding which one your sweetie will eat first. Milk, dark and white Belgian chocolate shells with flavor-infused ganache centers.  You simply won't be able to choose where to start with flavors like champagne, sea salt caramel and red velvet.
Of course, this is just the tip of the iceberg when it comes to all the treats you can easily order from 1-800-Flowers and all their partners.
Whether it's candy, cookies, flowers, specialty popcorn or something else yummy you're looking for, they have a gift for any taste and budget.
Want to do something really special? They now offer Multiple Days of Love. Choose from 2 or 3-day packages. Sure your favorite person may be expecting something on Valentine's Day. But won't they be surprised when they get another fun gift on the next day and the next?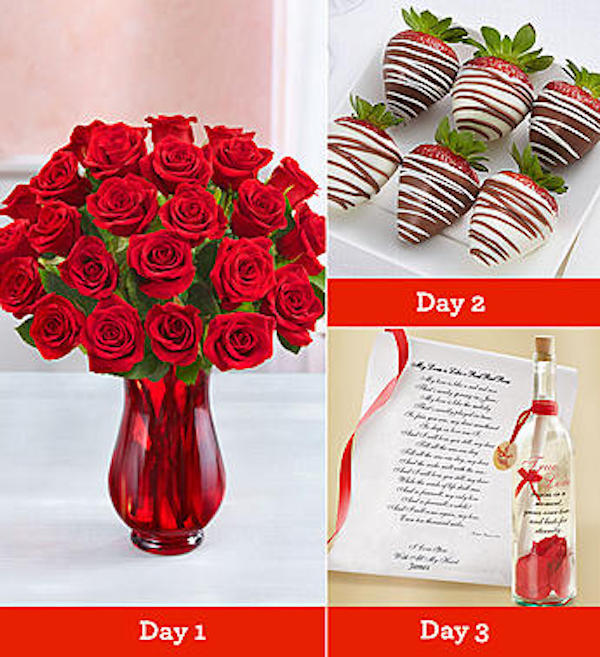 Don't Miss The Giveaway
We are thrilled to be able to work with 1-800-Flowers on a giveaway for our readers. How would you like to win one of the three prizes below?
Chocolate Rose Heart Cakes from Harry and David
Valentine's Day Gift Tin Tower
Simply Chocolate Valentine's Bar and Truffles
Complete the form below for a chance to win. Good Luck!
Sorry but this giveaway is for U.S. residents only.
For the complete selection of all their Valentine's Day products visit 1-800Flowers.com.
Pin To Your Valentine's Day Ideas