Big Sky Montana Vine and Dine
Big Sky Country
Big Sky. Those two little words evoke a vast array of images and emotions. Beautiful country. Wilderness. Open spaces. Adventure. And those are certainly true. But let's try this now. Let's add a few other words. Vine and Dine. Yep, that's right. Big Sky Vine & Dine. Now, what do you think? Thought so.  We had the opportunity to head to Big Sky Resort in Montana for their annual Vine and Dine event. Now we want to tell you all about the experience, which was, in a word, AMAZING.
We'd like to thank and acknowledge our hosts at Big Sky Resort, who provided us with complimentary food and accommodations. As always, this article reflects our own opinions based on our experience.
When you first think of Big Sky country in Montana, you might immediately go in your mind to images of skiing among some of the most beautiful trails in the world. Big Sky Resort has over 5,800 acres of skiable terrain, 24 chair lifts, 12 surface lifts and 4,350 feet of vertical terrain. The annual average snowfall is more than 400 inches. Which is totally awesome – if you're a skier. And it's winter.
Big Sky In Summer
But guess what? We're not big skiers. And our visit was during the summer. So what did we do, you may ask? Glad you did! We spent our time tasting great wine, enjoying incredible food, meeting interesting people, making our way up a mountain peak to eat and drink some more!  And, we did it all in one of the most gorgeous, delicious, welcoming places we have ever visited – and you know we visit a lot of places. Let's tell you all about it now, so you can decide that you might like to add Big Sky Resort Vine & Dine to your list of events to be sure not to miss.
Big Sky Resort
We'll start off with what you can expect at Big Sky Resort. First, you should know that while it's a big, diverse place, it feels more like a little village. It's also easy to navigate, which when you're geographically challenged like me, is a big plus. There are multiple options for lodging. We stayed at the classic Huntley Lodge, named after late NBC News broadcaster Chet Huntley. Then there's the Summit at Big Sky, with a luxurious European feel that has been pleased to host many noted guests, including President Obama and Vice President Biden.
Lots of Lodging
There are also many options from condominiums to chalets, lodges, cabins, town-homes, mountain homes and inns that you can call your home away from home while you're there. Each place has its own amenities and benefits from fine finishes, designer decor, pools and hot tubs, kitchens, fireplaces, quick access to slopes or restaurants and shopping.
You have a lot of choices about what you want from your accommodations. You can also find specials and packages by visiting the Big Sky Resort website trip planning area and seeing what's available.
Big Sky Vine & Dine
So now that you know you've got many options on where to stay, the big question for us Food Travelists is what is there to eat? This is where their premier destination event Vine & Dine will make you deliriously happy. It's a regional and celebrity chef event where you can hobnob with the best and brightest culinary talent, local food and wine lovers, expert sommeliers and winemakers all while tasting the freshest and most creative foods and pairings.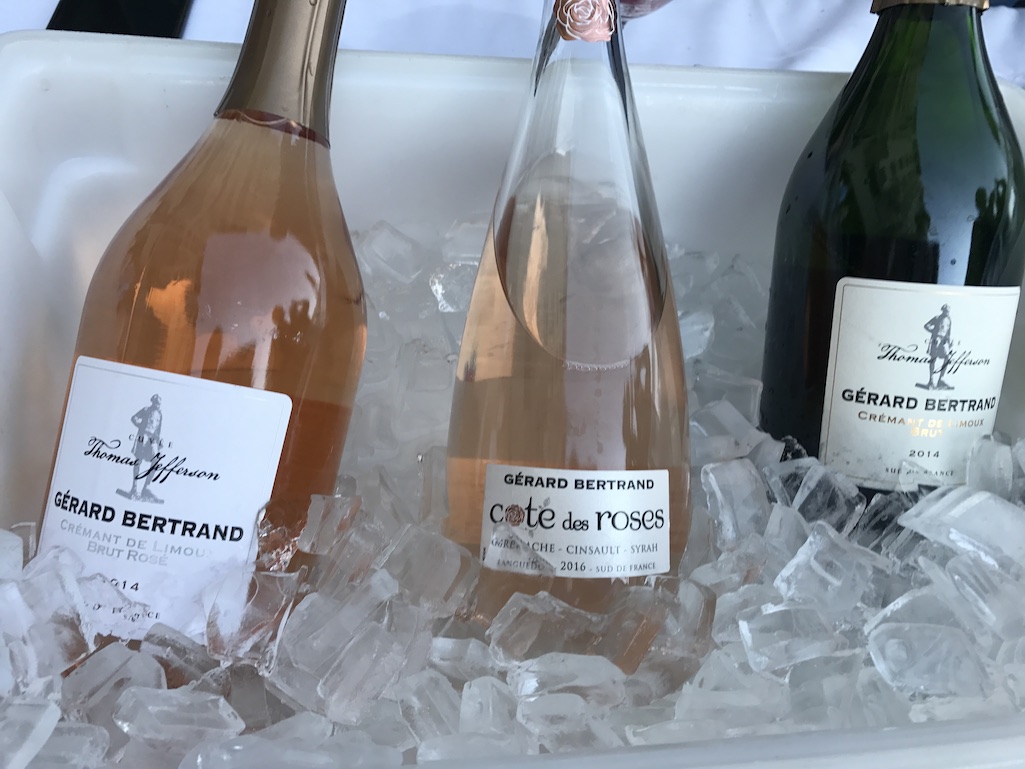 The variety of events is extensive, so whether you want to learn something new, try something different or just eat, drink and be merry, you'll be equally satisfied with your choices.
One of the things that we really loved about Vine and Dine was that the chefs chose culinary students from the Prostart program to learn and cook alongside them during the entire event. Prostart offers high school students the opportunity to work with chefs to learn the art of cooking and the business of operating a restaurant. They also earn college credit and earn money while in high school.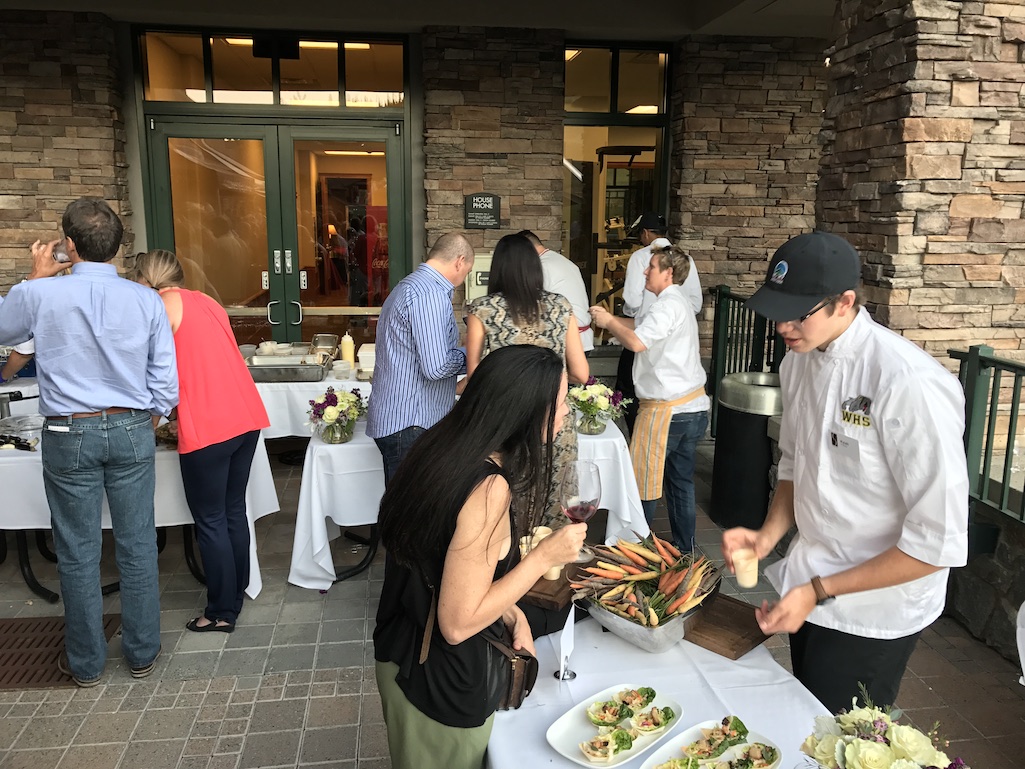 We had the opportunity to try a bit of everything. First up, a wonderful reception filled with wines. We got to taste a variety of wines created both near and far, including some new ones that we loved. Of course, there were fabulous bites to be had that went well with the wine offerings. And, not to be ignored was the sparkling conversation to be had with all of the guests. We even had the chance to meet Steve Bullock, Governor of Montana and his wife Lisa and talk about the opportunities and challenges resulting from the ever-growing popularity of The Treasure State.
A Taste of Google
We attended the fun "Google Inspired Luncheon." This tasty event featured Google Global Program Chef/Operations Manager Scott Giambastiani and his team of chefs from Google. They provided a glimpse into the "plant forward" approach that Google takes to food. We enjoyed their unique approach, including the opportunity for guests to personalize their dishes using a garnish station filled with fresh herbs, sauces, and spices. It was fun to eat and learn more about the incredible culinary program that Google has with some 200 chefs serving the organization worldwide.
Vine & Dine Events
There were also opportunities to learn. Events ranged from seminars about the Wines of Portugal to Cheese & Wine pairings, and our favorite, "Tasting the Master's Way" offered by Master Sommeliers Fred Dame and Jay Fletcher. We learned all about how to use our senses to identify the type of grape age and region of wines. We saw demonstrations of just how accurate these Masters are! The techniques were fun and easy to learn. We're sure it takes a whole lot of practice to become experts in sensory evaluation. We'd be willing to try, though!
Big Sky Vine & Dine offers a variety of other experiences, such as a celebrity created multi-course meal to an opportunity to meet the wineries, and even a resort stroll and market where you could sample some tastes from local merchants.
Pinot On The Peak
We loved "Pinot on the Peak," which was one of the highlight offerings of the event. This unique experience is known as the "Biggest Toast in America." It combines Big Sky Resort's Lone Peak Expedition with tastings along the route. You end up at the summit of Lone Mountain, at 11,166 feet! First, you take a ride up the mountain in a rugged terrain vehicle. Because the wine glass you have had from the start is likely empty, of course, you need to get another.
So you stop and have an alpine picnic including tastes of various Pinot wines. Pinot Gris, Pinot Blanc, and Pinot Noir add to your enjoyment of delicious nibbles. We couldn't resist the ample platters of roasted veggies, cheeses, dips, salads, breads and more. Honestly, we were stuffed but couldn't help tasting just about everything anyway. It was all so good!
A Toast At The Top
Then you head up in a gondola to the very tip-top of Lone Mountain – Lone Peak. You can watch all around as you ascend until you reach the top. When you arrive, you're ready to celebrate with some tasty sparkling Pinot bubbles! We were greeted by some brave souls who actually hiked to the Lone Peak.
They were from Switzerland so perhaps the challenge was too much for them to resist. We were more than happy to toast them and the amazing view before heading back down the mountain. What an incredible day we had. We really enjoyed every moment, every taste of food and wine, and most of all the wonderful hospitality and friendly fellow guests we encountered all along the way.
If you like wine, food, beautiful scenery a fun and relaxed atmosphere that is truly inspiring and rejuvenating, you should definitely check out the Big Sky Resort Dine & Vine, generally in August. The event is the perfect size and has been growing steadily each year, and we're sure it will only continue to get better and better.
In fact, Chef Giambastiani will be hosting a Winter Dinner at Big Sky on January 27, 2018, with wine pairings at each course by Master Sommelier Jay Fletcher. For tickets and more information click here.
Big Sky Resort
While we thoroughly enjoyed the Vine and Dine event at Big Sky we will say that while there we focused our attention on all the events and sips and bites we could. This meant that we didn't spend nearly enough time enjoying the Big Sky property. They have a beautiful full-service spa, multiple swimming pools, ziplining, mountain biking, hiking and much more to do in the summer.
There are also many restaurants to choose from on the property. One of our biggest regrets was not having the time to try one of the burgers at Montana Jack's. They looked ridiculously good. We did manage to sneak in a flight of local beer there. They offer indoor and outdoor seating and it's located right off the ski lifts for easy access.
And while fancy wine and cuisine are all well and good don't miss the Yeti Dog stand at Big Sky. Here you can get hot dogs, veggie dogs and our favorite Montana made Wilcoxson Huckleberry ice cream.
Yellowstone Country Montana
While you're there, don't forget to explore all the wonderful offerings in  Yellowstone Country Montana. If you'd like to read a little bit more about our summertime adventures there, check out our articles Best Food in Montana's Yellowstone Country and Delightful Chico Hot Springs. And stay tuned for our first visit during the wintertime. You won't want to miss how we find ways to keep ourselves warm!
Pin For Your Food Travel Visit to Big Sky Resort