Amazing Last Minute Tasty Holiday Gifts You Need Now
Many thanks to our friends at 1-800 Flowers. We received samples of their products for review purposes. All opinions we provide are our unique views and reflect our experiences. We pledge to provide our audience with truthful and honest reviews. Some of the links below are affiliate links. This means that we will earn a commission if you click through and make a purchase. There is no additional cost to you but this helps us keep Food Travelist going. 
December always seems to go at a breakneck speed. As soon as Thanksgiving is over it seems like New Year's Eve parties have already been booked and planned.
I love to give gifts of food to friends, family, and clients. I still remember how much fun it was to get gifts of fresh fruit, candy, and cakes delivered to our home when I was a kid. We would tear open the boxes with such delight then decide what to eat first and what to save for later.
Brands You Know
This year I'm not only going to make it easy for myself, I'm also going to send gifts from a company that has lots of brands I know and trust.  It's one-stop shopping for me at 1-800-Flowers. You may think of them as a great place to order flowers from and you'd be right. But one quick look at their website and you'll find some of the finest food and gift companies around. One stop shopping.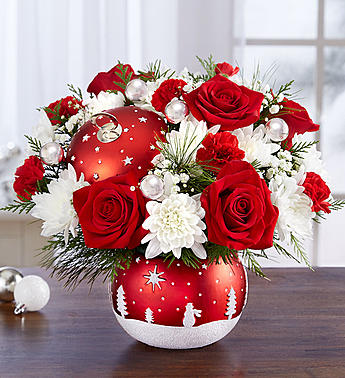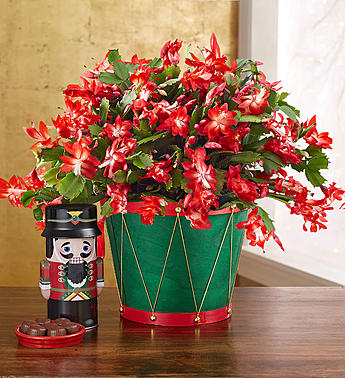 It's filled with names you know like Harry & David, Cheryl's Cookies and The Popcorn Factory. There are even a few you might not recognize that will soon become new favorites like Simply Chocolate and 1-800 Baskets.
Fruits and More
Harry & David has long been known for magnificent "towers" of goodies. Ordering one of these will let your folks know that you bought the best. All the gifts arrive in gorgeous holiday boxes tied with a beautiful bow. They make it easy by having categories to choose from like gifts for the family, gifts for coworkers, gifts for foodies (one of my faves), gifts for him or her and gifts from the bake shop.
Their Original Fruit of the Month Club Collections let you send a fresh gift that keeps coming all year round. They have also added Dessert Clubs (which includes a Chocolate Club!), Gourmet Food Clubs, Wine Clubs, Plant Clubs and more.
They also offer great up-to-date information on what fruit is in season, recipes and holiday entertaining tips on the site.
Holiday Cookies
Cheryl's Cookies are perfect for the sweets lover on your list. They have many adorable cookie jars and beautiful baskets that will make fun and perfect gifts for the holidays.
You can also order from one of our favorites Mrs. Beasley's cookies and award-winning Miss Grace Lemon Cake, just perfect for afternoon tea. My mouth is watering just looking at this beautiful, light and citrusy lemon cake.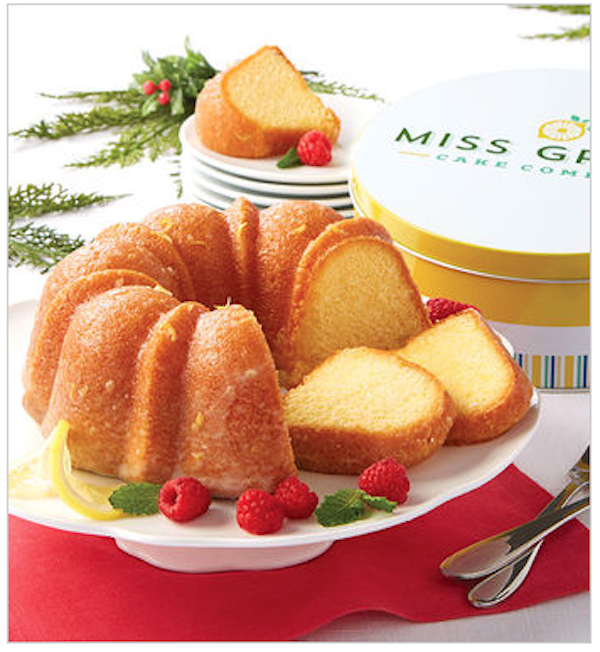 Crunchy Snacks
Who doesn't like popcorn? The Popcorn Factory offers so many festive tins and flavors you'll have a difficult time choosing. Not to worry though. You can choose from 3 or 4 flavor tins to be sure your friends have all their favorite flavors.
One of the really fun things is that their Holiday Kettle corn is green and red making it really fun and festive!
Nothing Says Celebration Like Chocolate
Belgian chocolates are incredible. When you send these as a gift your recipient will probably hide them and refuse to share with anyone. The luxurious chocolate from the Simply Chocolate Neuhaus will make you a hero.
This family-run chocolate business started in 1857 and has been meeting the strict Belgian standards ever since. They use only UTZ-certified sustainable chocolate and source only the finest non-GMO ingredients from around the globe.
These chocolates melt in your mouth and should be eaten slowly and with a good glass of port or sherry.
When You Can't Quite Decide
You may have been familiar with 1-800-Flowers before, but did you know they also offer 1-800-Baskets.com? Me neither.
The many choices of beautifully designed baskets can be a little daunting. But if you want to send a gift with a little bit of everything this is your sweet spot. Filled with Ghirardelli, Godiva and Fannie May candies you pick which one works best for you.
They also have Holiday Party Crackers, which are fun for dinner party gifts. Another one of my favorites is the Wintry Warmer Holiday Tea Gift Basket that includes a teapot, cookies, candies, honey, and teas from Harney and Sons and Tazo. It's the perfect way to send someone their own afternoon tea.
Don't Wait. Go To 1-800-Flowers.com Now! 
There's still plenty of time to order from 1-800-Flowers.com for your gifts to arrive in time for the holidays. The site has many different offers that change often so be sure to see the very latest deals.
Also, if you have credit cards that offer extra points or miles with shopper rewards be sure to check that out before you order. I learned that if I use my Chase Sapphire Reserve card I can get 9 points for every dollar I spend on 1-800 Baskets. And get 8 points for every dollar spent on Harry & David products. Score! If you're like me points means more travel! So be sure to check your credit cards for any deals out there.
You can learn more about all the products that are available and place your order at 1800baskets.com
Pin For Your Last Minute Gift Ideas