National Chocolate Day October 28th
Chocolate. We find it tough to find anyone who doesn't like it. We love it ourselves. We'll find any excuse to celebrate almost anything with some type of chocolate. Perfect celebrations are birthdays (or birthday months!), getting that new client, finishing a task, cleaning the cat box, whatever it may be that earns a reward.
We think it's about time that we just celebrate chocolate for it's own sake. October 28th is National Chocolate Day, the day when the great taste of chocolate gets its due.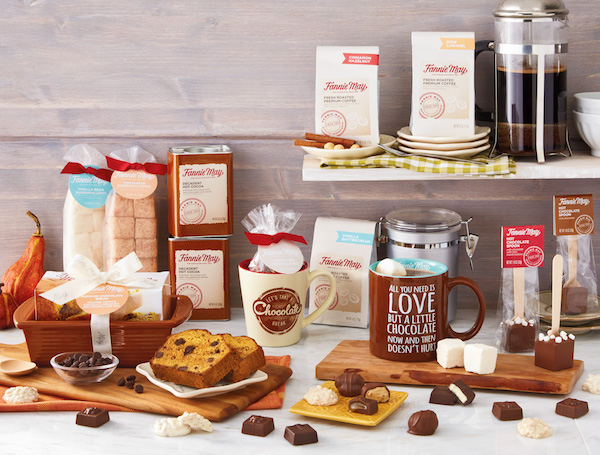 Celebrate National Chocolate Day All Day Long 
You know we love our friends at Fannie May. We're excited to tell you that they recently introduced their new Apron & Spoon Collection. It brings their classic flavors into more products just in time for National Chocolate Day and the holiday season.
The new collection will have you celebrating National Chocolate Day all day long.
Do you need to start your day with some great tasting coffee? Try their candy-inspired java flavors like vanilla buttercream or Pixies® Caramel Coffee. It gives your morning cup of Joe a delicious twist. We enjoyed the vanilla buttercream flavor so much!
Mid-morning snack? How about trying the Pumpkin Chocolate bread mix from Fannie May. The mix comes in a cute little loaf pan ready to mix and bake. If you're a fan of the seasonal taste of pumpkin, you'll find that pumpkin and chocolate make an unbeatable combination.
End of day reward? Hot chocolate spoons paired with artisan marshmallows in cute chocolate-messaged mugs will hit the spot.
You can find all these tasty Fannie May goodies in their retail stores or online at fanniemay.com.
Our friends at Fannie May provided us samples for this review. In order to recommend the products we had to try everything to make sure it was tasty. It's a hard job but we do it for you our readers. We were not financially compensated for our review.
THE QUICK BITE: Celebrate National Chocolate Day this year with treats that will get you through the whole day from Fannie May!