Low Carb Gluten Free Southern Fried Chicken and Cheesy Cauliflower Grits
Say "Southern Fried Chicken" out loud in a crowd you will likely see heads turning faster than you can say carbohydrate loading.
Disclosure: This post is sponsored by Ovation TV. The opinions expressed and the recipes provided are our very own.
From early days in country kitchens across the southern United States to pretty much everywhere these days, fried chicken has become a favorite dish that transcends geographical and cultural boundaries. 
Many believe that frying chicken came to the American South by way of the Scots, who found frying much more appealing than the typical boiling or baking done by the English. The addition of spices to kick up the flavor is attributed to African-American slaves, who were often allowed to raise chickens for themselves.
Today's Food Travelists know that fried chicken is one of the best dishes for traveling. It's good cold or warm, holds up well on the road and goes great with many different side dishes. In fact, when the airlines began serving inflight meals, fried chicken was an early favorite because of its heartiness and serving convenience.
Even so, if you're following a low carb or gluten free diet, you may consider it off limits or have gotten used to pulling off that delectable flour or cornmeal crust feeling deprived, as we've done ourselves.
But there's hope! Ovation TV brings us Southern Uncovered with the Lee Bros., whose culinary explorations explode myths and reveal new ideas about southern cooking. These James Beard Award-winning food + travel writers delve into the Southern food scene in ways we never imagined! Not only do we get to travel with them to great food cities of the South, but they also give us the inspiration to look at iconic Southern dishes in new ways. Here, we approach Southern Fried Chicken and Cheese Grits and make them available to those of us avoiding carb or gluten content.
We can't think of a better way to celebrate the delights of southern eats in all their diversity than by putting these "forbidden" favorites back on our menu. See our recipes below and don't forget to tune into Southern Uncovered on Ovation for more great insights from these talented and fun food travel guides!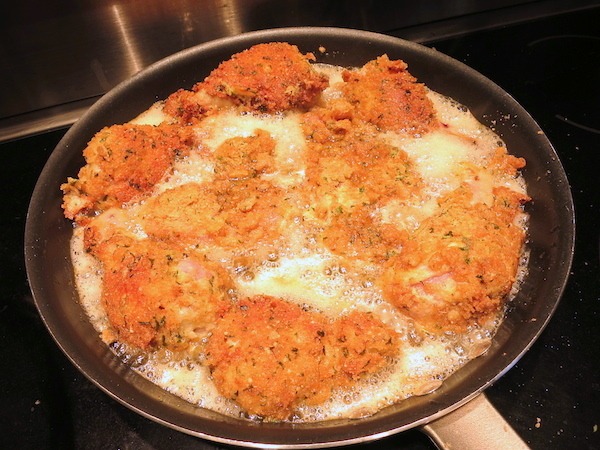 Low Carb, Gluten Free Southern Fried Chicken
This recipe makes one of the best traveling dishes you can find. This recipe will work whether or not you keep the skin on, and we'll include both here for you to see. We use coconut flour and coconut oil for pan frying for their nutrition and because we like the way they taste. Feel free to substitute your favorite low carb flour and oil or lard suitable for frying. This recipe is also suitable for Gluten Free eaters.
Ingredients
1 cut up chicken or parts you prefer, with or without skin
1/2 cup heavy cream
2 cups coconut flour
2 large eggs
6 oz. pork rinds, crushed into crumbs
1/4 cup grated Parmesan cheese
1 Tablespoon granulated garlic
1/2 Tablespoon onion powder
1 Tablespoon dried oregano
1 Tablespoon dried parsley
1/2 teaspoon paprika
salt and fresh ground pepper to taste
Coconut oil to depth of about 1/2 inch in frying pan
Directions
1. Heat oil in skillet until 325 F degrees or until drop of water sizzles.
2. Smash pork rinds by hand or in a food processor into "crumbs" and place into a bowl. Add Parmesan, garlic, onion powder, oregano, paprika, salt, and pepper, and blend together.
3. In another bowl blend together eggs and cream with a sprinkling of salt and pepper.
4. In third bowl, combine coconut flour with a sprinkling of salt and pepper.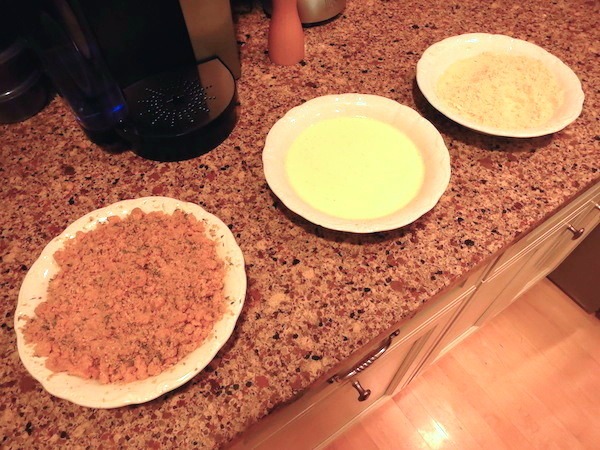 5. Make sure chicken is still slightly damp. Dip the chicken pieces first in the coconut flour, then into the egg/cream mixture, and finally roll in the pork rinds mixture until covered thoroughly.
6. Fry chicken in oil, turning several times to brown. Cook through to 165 F degrees internally, poke with a fork until juice runs clear, or cut into pieces to check that meat has lost its pinkness and outside crust is golden brown. Let chicken pieces drain on paper towels.
Cheesy Cauliflower Grits
Here's one of the easiest and most addictive side dishes you'll ever find, whether you're eating low carb or gluten free or not. We use cheddar cheese but you can use whatever cheese you like.
Ingredients
1 head cauliflower, leaves removed and cut into chunks
4 Tablespoons butter or margarine
1 cup cheddar cheese, shredded
1/4 cup heavy cream, as needed
salt and fresh ground pepper to taste
Directions
1. Cook cauliflower by traditional steaming in a pan or place in microwave safe bowl with enough water to cover bottom of bowl and loosely cover bowl with plastic wrap on high for 10 to 12 minutes, until very tender. When soft, mash or blend until the texture looks like mashed potatoes or lumpier, to your preference.
2. While cauliflower is cooking, melt butter in a saucepan. Then add cheddar cheese stirring until melted together. Add cream as needed and stir with spatula or wooden spoon to make a thick, smooth cheese sauce.
3. Remove cheese sauce from heat and add cauliflower, blending  until mixed. Add salt and pepper to taste.
Serve chicken and cauliflower grits together with your favorite green vegetable or a salad for an absolutely fantastic low carb, gluten free, guiltless meal. Delish!
THE BIG BITE: Ovation TV's Southern Uncovered with the Lee Bros. inspired us to create recipes for low carb, gluten free Southern Fried Chicken and Cheesy Cauliflower Grits.
Disclosure: This post is sponsored by Ovation TV. The opinions expressed and the recipes provided are our very own.