Skylar Rae The Sweetest Cherry You Will Ever Eat
Summer's finally here and one of my favorite things about summer is the abundance of fresh fruits and vegetables. My all-time favorite fruit is cherries. I love them in everything. This year the folks from Stemilt Growers turned us on to something unique – Skylar Rae® cherries. When they offered to send us some samples, I couldn't wait to try them.
Skylar Rae® cherries are very special. If it's true that we first taste food with our eyes, you know you're in for a treat when you see their beautiful golden color skin with an orange-red blush. The fruit is firm and the flesh is colorless. I absolutely adore firm cherries and every one of these cherries was firm and sweet. In fact, Skylar Rae® cherries are exceptionally sweet and crisp, making them delicious to eat fresh, as well as to use in your tasty creations.
Where Did They Come From?
The easy answer Washington State. The dry, warm days and cool nights make eastern Washington the perfect climate for these special cherries. The more touching answer is that the Toftness family had been cherry farmers in Wenatchee, Washington for more than a decade when they suffered the horrible loss of their infant daughter. As they began their healing process they discovered an unusual cherry in their orchard. It had unique genetics and they never tasted anything like it before.
Typically cherries found in nature are very difficult to cultivate for commercial production. Clearly this was no run of the mill cherry. Because this cherry was so special the family felt it was a gift from nature meant to honor their beautiful daughter. They named the cherries after her "Skylar Rae®."
Skylar Rae® cherries are only available for a short time from early June to early July. Stemilt Growers has the exclusive right to grow and market Skylar Rae® cherries in North America.
A cherry so tasty also makes a fantastic ingredient in creative recipes. Here's one that we concocted to highlight the delicious freshness of these beautiful cherries. You'll notice that because the flesh of these cherries is colorless you will not have a bright cherry color, but you will taste the delicate sweet cherries in this refreshing summer drink.
Skylar Rae® Cherry Recipes
Cherry Limeade Cooler
Ingredients
3 cups of water
1 cup organic sugar
1 cup Stemilt Skylar Rae® cherries, halved and pitted
1/2 cup limeade (made fresh or from frozen concentrate), chilled
1 liter of club soda or seltzer
Stemilt Skylar Rae® cherries to garnish
Directions
Combine water and sugar in a small saucepan, add the halved and pitted cherries. Bring the mixture to a boil. Reduce heat and simmer for 20 minutes. Remove from the stove and cool to room temperature. Strain the syrup into a resealable container. Set cherries aside. Refrigerate the syrup until cold.
Fill a tall glass 14-16-ounce glass with ice. Pour 2 Tablespoons of limeade and 1/3 cup cherry syrup over ice and top with club soda. Garnish with cherries. Feel free to add your favorite spirit for an adult cocktail. Vodka is a perfect pairing.
The syrup can be stored up to a week in the refrigerator.
Skylar Rae® Cherry Breakfast Granola
One thing my Grandmother taught me years ago was "waste not, want not." I especially dislike wasting food. So with the cherries we set aside from the Cherry Limeade Cooler above I started thinking about what to do with these sweet cherries that were left over from the syurp-making process and came up with this simple recipe that really livened up my typical morning yogurt.
Ingredients
1/4 cup Greek yogurt
1/4 cup of granola
1/8 cup left over Skylar Rae® cherries from syrup-making
1 teaspoon of cocoa nibs
Directions
Add yogurt to a small bowl, top with granola, cherries and cocoa nibs.
Enjoy!
Skylar Rae® cherries are available in two options a 1.25 lb. bag and a small 1 pound clamshell carton. Check your local supermarket or produce store for availability.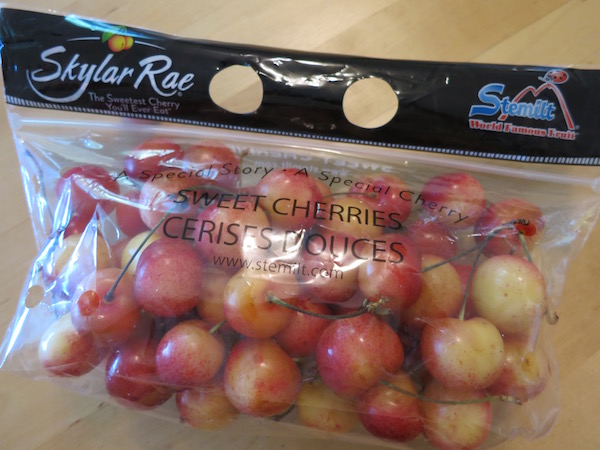 To read more about the Skylar Rae® cherry check out their website at stemilt.com.
THE QUICK BITE: Skylar Rae® cherries from Stemilt Growers are the sweetest cherries you'll ever eat. Grown in Washington State these firm and super sweet cherries are a perfect summer treat.