Chicago Gets A Shake Shack
If you like tasty juicy burgers, you've probably heard about Shake Shack.
In the early days of November 2014, the Chicago Shake Shack opened in River North to much hoopla. Lines around the corner despite the weather for a burger? Absolutely.
We have had the chance to try Shake Shack at several of its other locations, so we were quite familiar with its tasty burgers. We have dined in the park in Madison Square Park New York at the Shack Shack walk up counter on a beautiful sunny day.
And we've been to the Shake Shack in Dubai. We have always liked the burgers at Shake Shack so we saw no reason to believe that we wouldn't like them in our home town Chicago.
We were fortunate enough to get a media invitation to taste the burgers without waiting in the line, which continues to stretch outside the front door (I know, how do we do it?).  They took our order and we sat and watched as the line outside got longer and longer and the staff churned every burger combination imaginable.
The classic Shack Burger is an 100% all-natural Angus beef patty with no hormones or antibiotics, topped with American cheese, lettuce, tomato and ShackSauce. Let's not forget the super fresh, super soft Martin's potato bun. It's no secret that we are HUGE fans of Martin's. This is one delicious burger. Is it fancy? No. Is it the best? Who cares. It's good. Really good.
We also tried the SmokeShack, which is the Shake Shack cheeseburger topped with all-natural applewood smoked bacon, chopped cherry pepper and ShackSauce.
I know this will start a war but I'm a fan of crinkle-cut fries and Shake Shack's are really good. And yes, you can get them topped with a blend of cheddar and American cheese sauce.
Since this is Chicago we had to try the Shack-cago Dog, as you would expect it features relish, onion, cucumber, pickle, tomato, sport pepper, celery salt and mustard. The hot dog is 100% beef – split and griddled crisp.  It's a decent Chicago dog.
Shake Shack also does a great job bringing in Chicago local favorites and literally mixing them into their already popular regulars. One of their specialities is the "Concrete," which is homemade frozen custard blended at high speeds with mix-ins. We tried the Salted Caramel "L," which has vanilla custard, banana and Glazed & Infused salted caramel old fashioned doughnut. We love the use of a local favorite to make the Concrete special for Chicago.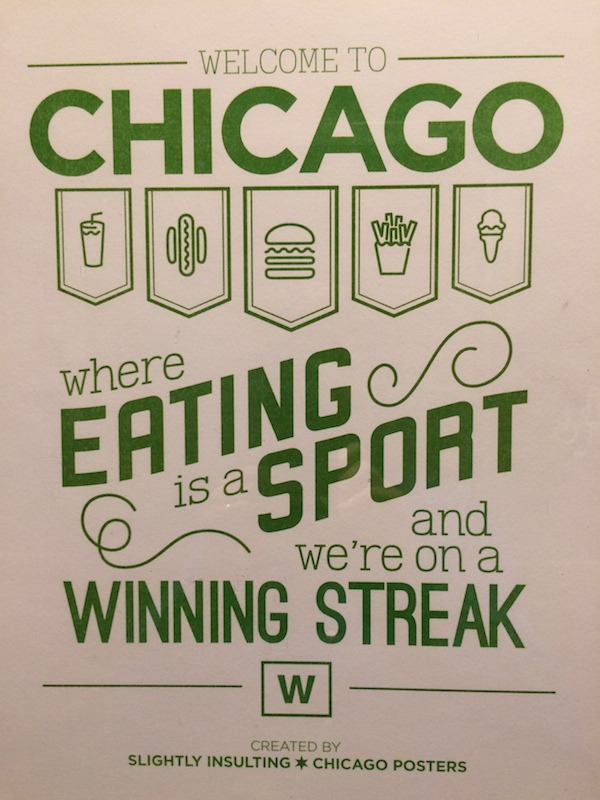 We love the food at Shake Shack. But more than that, we love that when they open a restaurant they want to become part of the community. In Chicago, they are working with the Greater Chicago Food Depository to help feed people in need throughout Chicagoland. and with some local suppliers to integrate local food and drink suppliers into their offerings.
Shake Shack, 66 East Ohio Street, Chicago IL. Open daily from 11am-11pm.
THE QUICK BITE: Shack Shake is in Chicago. If you love burgers, shakes and fries Shack Shack is one spot not to miss.